You may have had Vietnamese food, but nothing will compare to the culinary experience with ENV Travel's Vietnam & Cambodia lux back-street culinary adventure!
I have traveled around the globe, utensils in hand, and for me, nowhere says "street food" quite like the back-streets of Vietnam.
Imagine a restaurant, half the size of your home kitchen, tiny plastic stools and tables packed with locals, the smell of charcoal wafting to the sidewalk. A tiny doorway sandwiched between buildings for you to crush your way in past the clouds of BBQ smoke and find a spot. The ancient woman on the street, swirls and flips her rice batter on a stretched silk over a steaming pot, magically creating the rice noodles that she, with a flick of her chopstick, sends landing on a steaming plate. Within minutes, without any spoken words, the plate arrives at your spot, bits of grilled pork and shrimp peeking from between the folds, with a mound of crispy golden shallots and garlic almost burying the whole dish. Branches of green herbs, all different, some never seen before, are handed--hand over head- to your spot and plunked down with a bowl of dipping sauce, shredded carrots, fresh chilies and scallions floating on top. A quick look around to see what the locals are doing results in shy giggles from the curious onlookers.The most adventurous one, with a few words of English, decides to demo--reaches timidly over, plucks a pair of chopsticks, unwraps and hands them to you--takes a clean pair, deftly levers some greens on top of your plate, douses the whole thing in sauce and in a universal gesture of chopsticks-to-mouth instructs you to eat. Oh the flavor!. Oh the texture! Unlike anything you have tasted before! But definitely not the best you will ever taste as we continue our discovery of Vietnam and Cambodia.
In under 20 minutes you are back on the street headed for more culinary adventures. Steaming bowls of Pho, the crispiest Fried Shrimp Fritters wrapped in lettuce and doused in searing chili sauce, Chargrilled Pork Bun Cha, Rice Noodles, Herbs, crispy light as a feather Bahn Mi and of course the ubiquitous, yet never had one like it, Fresh Salad Roll. You may have had Vietnamese food, but nothing will compare to the culinary experience with ENV Travel's Vietnam & Cambodia lux back-street culinary adventure!

Until then, here is a one of my favorite, simple to do at home, versions of Fresh Vietnamese Salad Rolls with Peanut Sauce
I am so excited to share this enviously delicious travel adventure with you in December as we explore the culinary delights of Vietnam and Cambodia!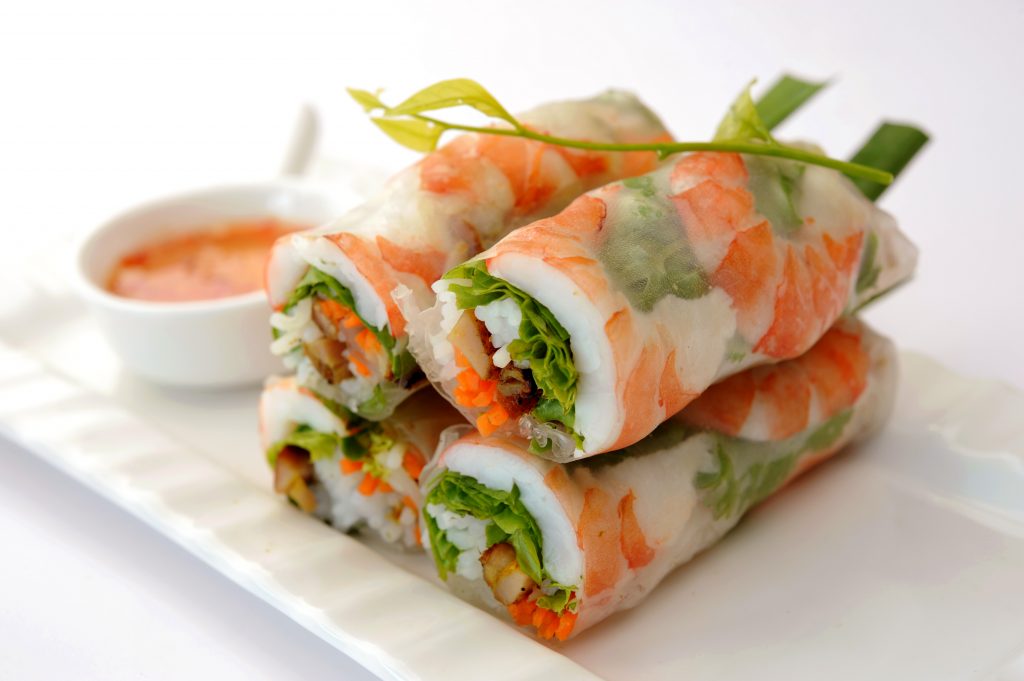 Chef B's

Fresh Vietnamese Salad Rolls
Yield: 12 salad rolls
12 large shrimp
¼ package rice vermicelli
15 round rice papers
1 ½ cups blanched bean sprouts
¾ cup drained carrot and daikon pickle
½ cup washed and picked mint leaves
½ cup washed and picked cilantro leaves
1 bunch green onions, washed, trimmed and split in half lengthwise
Method:
1. Bring a large pot of salted water to a rolling boil. Drip in the shrimp, stir and allow the shrimp to cook until only just cooked-through. Drain and transfer to a sheet pan to cool (spread them apart so that they cool quickly).
2. Place the rice vermicelli in a paper bag and cut into 3" lengths with scissors. Transfer the noodles to a mixing bowl and cover with boiling water. Drain the noodles after about 10 minutes or when cooked but still offering some resistance to the tooth. When the noodles are drained, rinse with cold water and drain well. Toss with a little vegetable oil and refrigerate.
3. Remove the shrimp shells, devein, cut in half lengthwise and rinse, set aside.
4. Place a large bowl of very hot water on your work station behind a damp apron.
5. Line up all the ingredients next to you.
6. Dip the rice paper into the hot water to soften, hold up to drip-dry and then carefully lay on the damp apron.
7. Place the rice vermicelli, bean sprouts, pickle, mint and cilantro in a small elongated pile on top of the rice paper nearest the edge closest to you.
8. Roll the rice paper around the ingredients and then add 2 to 3 shrimp halves, colorful side out.
9. Give another half roll and add a piece of green onion. Roll almost to the edge, moisten the flap with a bit of water and seal.
10. Place on a plate seam-side down and repeat with the remaining ingredients.
11. Serve with Nuoc Cham and/or Peanut dipping sauce